Learn more about the tips and tricks from our Paalam Mentorship Team on how to hold effective mentorship conversations in a virtual and post-virtual environment!
Connecting with industry professionals and holding mentorship conversations virtually (or in hybrid settings) can seem overwhelming – let alone even learning how to do it in the first place. However, this hasn't diminished the importance of mentorship as an effective mechanism to obtain professional development-related guidance. 
The pandemic is shaping our lives and we see the Great Resignation phenomenon across all industries. Collectively, this has pushed professionals at all career stages, and more than ever before, to turn to mentorship programs and professional connections to seek career advice they're looking for  – ranging from current trends in a sector all the way to how to transition from one industry to another.
As a result, mentors and mentees are seeing the value in an effective professional relationship. According to a study conducted by the non-profit organization, America Needs You (ANY), over 90% of the mentors who participated in the organization's mentorship program reported that their "experience as a mentor helped them become a better leader or manager at work", allowing them to build critical skills such as situational leadership to address emerging issues in the workplace. 
While COVID may have put a dent in all face-to-face mentorship opportunities, it has equally transformed the way we see mentorship, providing us with the opportunity to leverage virtual and hybrid mentorship conversations whenever possible. Here at CTPA, we, too, are trying to understand how to lead mentorship in this "new normal" context. To understand how to lead more effective virtual and hybrid mentorship conversations, our Paalam Mentorship team reached out to their managers and teams at work for some tips and suggestions. However, before listing the tips, it may be helpful for us to define what we mean by face-to-face, virtual and hybrid mentorship conversations.
What are the different types of mentorship methods?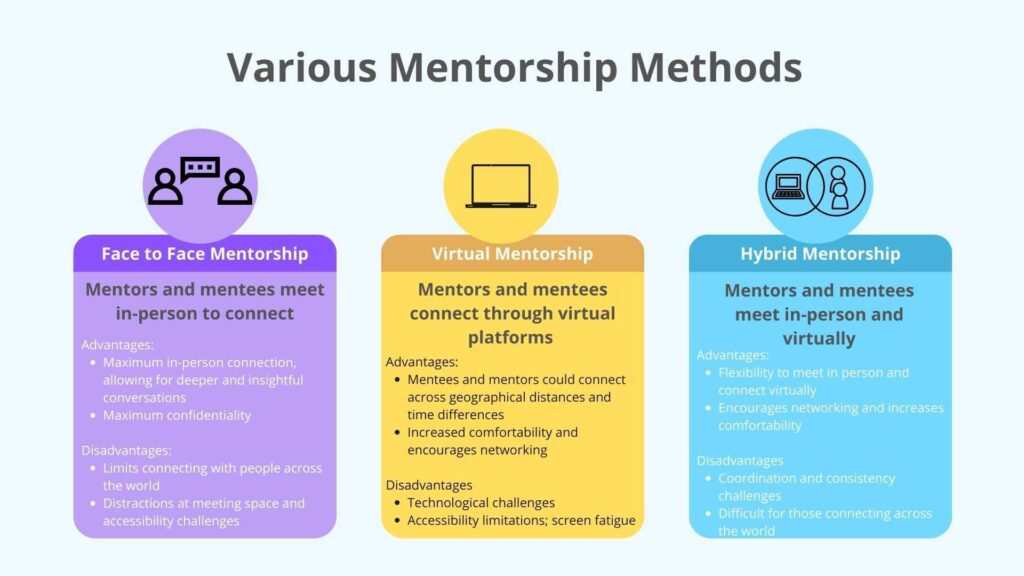 The graphic below explains the various mentorship methods and outlines their advantages and disadvantages. 
Note: Inspired by the table found in University of Toronto's Mentorship Foundations: Building Rapport Online. 
Tips for effective virtual and hybrid mentorship conversations
Having learned the differences between the mentorship approaches, here are the Paalam Mentorship Team's five (5) tips for holding effective mentorship conversations virtually and/or in hybrid settings: 
Use different types of virtual platforms to connect – embrace the limitations and strengths of each platform
Individuals might prefer to use different virtual platforms (Zoom, MS Teams) to connect, depending on their level of comfortability and ease of convenience of the platform itself. So together, mentors and mentees could explore different communication tools and decide which tool best meets their needs. Reportedly, Microsoft is in the process of developing new types of meeting rooms optimized for hybrid settings!Ultimately, every virtual platform will have its own set of limitations. However, if a platform has specific features such as online assessments or interactive activities, matched pairs could use those functionalities to do any professional development-related activities together.
Improve your 'technology game' and invest in vital technology
A key element in virtual sessions, particularly, is audio levels. Although obvious, mentees and mentors need to be able to hear one another when speaking.Individuals could pre-test audio levels before a mentorship session to avoid situations with poor audio levels. Additionally, they could invest in separate microphone systems to allow for a clear and smooth audio experience.Suppose mentors and mentees are looking to use whiteboards, flipcharts or other writing surfaces to discuss key topics or ideas. In that case, they may benefit from installing additional webcams (during virtual sessions) to ensure the other person is able to clearly see the text being written.Technological considerations, as those mentioned above, are particularly beneficial in hybrid mentorship contexts since they lead to stimulating mentorship sessions. More importantly, they create spaces as if the mentor and mentee were meeting in person.
Have a holistic approach to mentorship and always be inclusive
Although mentorship discussions are primarily career-focused, conversations about things other than work and school are completely acceptable, as long as they respect both mentors' and mentees' personal and professional boundaries.One message became strikingly clear throughout the pandemic – individuals working virtually will always have distractions. To this point, ANY recommends that mentors and mentees adopt a holistic approach to mentorship where neither person is expected to apologize for interruptions from children and/or pets during virtual interactions. Establishing such 'virtual norms' eases the stress of digital interactions and paves the way for more empathetic discussions.In the context of accessibility, we at CTPA encourage mentors and mentees to factor in accommodations when coordinating sessions virtually and in-person. Particular care should be taken if a mentee or mentor is a person with disabilities.
Define the parameters of your mentorship relationship and celebrate accomplishments
Establishing the purpose for a mentoring relationship is important for setting the tone and parameters for the relationship and a meaningful professional connection. This creates a solid foundation for the exchange of feedback and guidance.It's recommended that at the outset, mentors and mentees come to the ground on the frequency of the mentorship sessions, the goals they will work on together, and the method of communication. Virtual and hybrid mentorship relationships could mean deciding early on whether the mentor or mentee will be meeting virtually, in-person, and/or a mix of both, and how their limited meeting time would be best utilized.As a best practice, mentoring pairs could develop a goal-setting plan in which they document the goals to be achieved, their timelines, and relevant check-in touchpoints. A goal-setting plan sets mentors and mentees up for success.Finally, mentoring pairs should celebrate wins that come with reaching goals or milestones in their mentorship journey. Wins, big and small, are always worth celebrating!
Be available and present – fully commit to the mentorship sessions
Mentors and mentees are encouraged to maintain an open line of communication to address any emerging issues and avoid misunderstandings. However, it's important for mentors and mentees to commit to attending their mentorship sessions beyond being available.There's an increased urge to cancel or reschedule sessions with virtual sessions, but keeping that to a minimum is ideal. If an unforeseen circumstance arises, it's acceptable to reschedule as long as the mentor or mentee follows up for an alternative session. A hybrid mentorship setting might provide more flexibility since mentors and mentees could opt to meet up in person if a virtual session is no longer feasible or vice-versa.Altogether, being available and present helps build engaging and purposeful connections for both mentors and mentees. More importantly, it reinforces that both parties are taking the mentorship relationship seriously.
Final Thoughts
And that's it! We hope that our tips are helpful for mentors and mentees who are looking to embark on virtual or hybrid mentorship connections. If virtual and hybrid sessions are challenging,  face-to-face sessions could be an option, as long as meeting in person complies with the public health advice (in the place of residence of the mentors and mentees). 
Wishing you the best on your mentorship journeys!