CTPA wishes you all a happy Tamil Heritage Month. On Jan. 24, we held our third annual Tamil Heritage Month mixer at the Chinese Cultural Centre. This year, we had a special focus on the arts and culture with guest speaker presentations on poetry and bharatanatyam, classical performances and art showcased by local Tamil artists.
Thank you to our guest speakers (Nedra Rodrigo and Arrthami-Siva Kuruvinth), our performers (Prabha Balakrishnan, Vhyshnavi Sriranjan, Sahithyan Bala, Akshii Mohan, Steve Cliff) and artists (Thiviyaa Sehasothy, Aphiraa Gowry, Keera Ratnam) for their contributions and helping our attendees reflect and engage with our Tamil identity.
We asked a few of our guest speakers and artists questions about their relationship with Tamil culture and how it has influenced their identities. Read more below!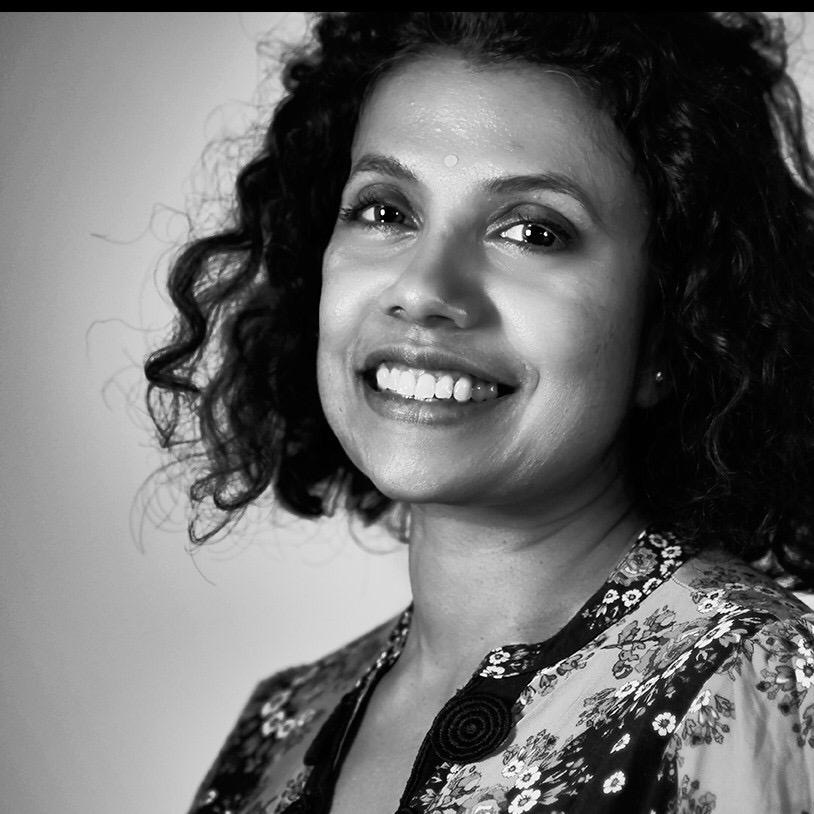 Nedra Rodrigo
"Tamil identity for me is tied up with a sensibility that comes from Tamil music, literature and film, as well as a whole slew of cultural practices both secular and religious. There are ways of feeling and being Tamil that comes from our shared material and historical experiences of displacement and trauma, but on the other hand there are also emotional experiences, intangible things like pride, honour, joy, sorrow and love that are particularly Tamil.
It's almost impossible for me to be disconnected from Tamil culture living in the GTA! We're a massive diaspora here, much to the envy of visiting friends who swoon over the cultural and foodie options we have available. I go to a lot of events by local performance troupes like Manaveli and Uyirppu; I go to the annual koothu productions by Thaiveedu; I am able to tap into archival support through people in the Noolaham Foundation; and of course I get to have Tamil food on a regular basis. Tamil activism is also alive and thriving here, so there is a lot of information available on our history and our present challenges, to remind me that my work needs to stay relevant. There are generally a variety of Tamil events going on at any given time, no matter what your tastes are. I've also worked at growing my own community, my extended Tam Fam, and through them I find an affirmation of a kind of secular Tamil culture that is sensitive, complex, nuanced and supportive.
As an intellectual, I realize I'm shaped by a thirst for knowledge that is very Tamil at the core. From childhood I would hear the description padicchavanga (learned) said with such reverence. So, it was through Tamil culture that I first learned that knowledge is power, and it is the only kind of power that resonated for me. When I was a child, during the riots of 1983, I found myself reading a lot, and at some point, I realized that, in the midst of curfews my mind was free to go wherever I wished. Many years later, when I wanted to do graduate work related to my life experiences, I couldn't find the academic support I needed. So, I founded the Tamil Studies Symposium at York, with the support of the York Centre for Asian Research, some amazing student friends, and some very thoughtful community members. My friend, poet R. Cheran, and the late Prof. Chelva Kanayanayagam pushed me to start translating contemporary Tamil literature, and though I had absolutely no confidence that this was something I could do, I am now translating poetry, fiction and memoir. It has become a symbiotic process, where the act of translating teaches me more about the diversity and richness of the Tamil language in different regions in the homelands, as well as in diaspora. I try to take that awareness into my intellectual work and into the arts education work I do as well.
I think that our experience of conflict has flattened how many of us view Tamil identity. We can become a little rigid and unbending in defining Tamilness in some elite and hierarchical ways. We can become defensive about tradition and cultural preservation beyond what's actually beneficial for us. We need to acknowledge how cosmopolitan we are, but also look at ways in which the working class contributes to Tamil identity. I would love to see more inclusion as a matter of course, where all Tamil bodies can participate safely in community events. I don't want to say that where you're from, your caste, political views, gender, sexual orientation, religion, physical or psychological abilities shouldn't matter, but rather that they should be acknowledged, accommodated and welcomed. I think we're moving towards that kind of inclusion now, and I would like to see that grow exponentially. If there's a group/person that you have benefitted from, find a way to give back to them. This will help that group /person survive and provide opportunities for others as well. I would love to see us help each other survive, thrive and do some meaningful intergenerational healing within our community but also across communities.
Right now, I'm on a steering committee for a Tamil Community Centre, so that's become a big part of my fantasy for a Tamil future in the GTA. I believe that in twenty years we'll have a massive Tamil intellectual and artistic hub happening in the GTA. There is an incredible knowledge base we have here, and as we archive their experiences and translate their works, we will have a much more informed and educated younger generation to take over from us. I work with a lot of young people, and they make me very hopeful because I encounter so much emotional intelligence, critical capacity and new ways of building there. So, at the end of the day, it goes beyond what I see. There's a future beyond anything I could have imagined, because those young folks will be in charge, and they will surprise all of us."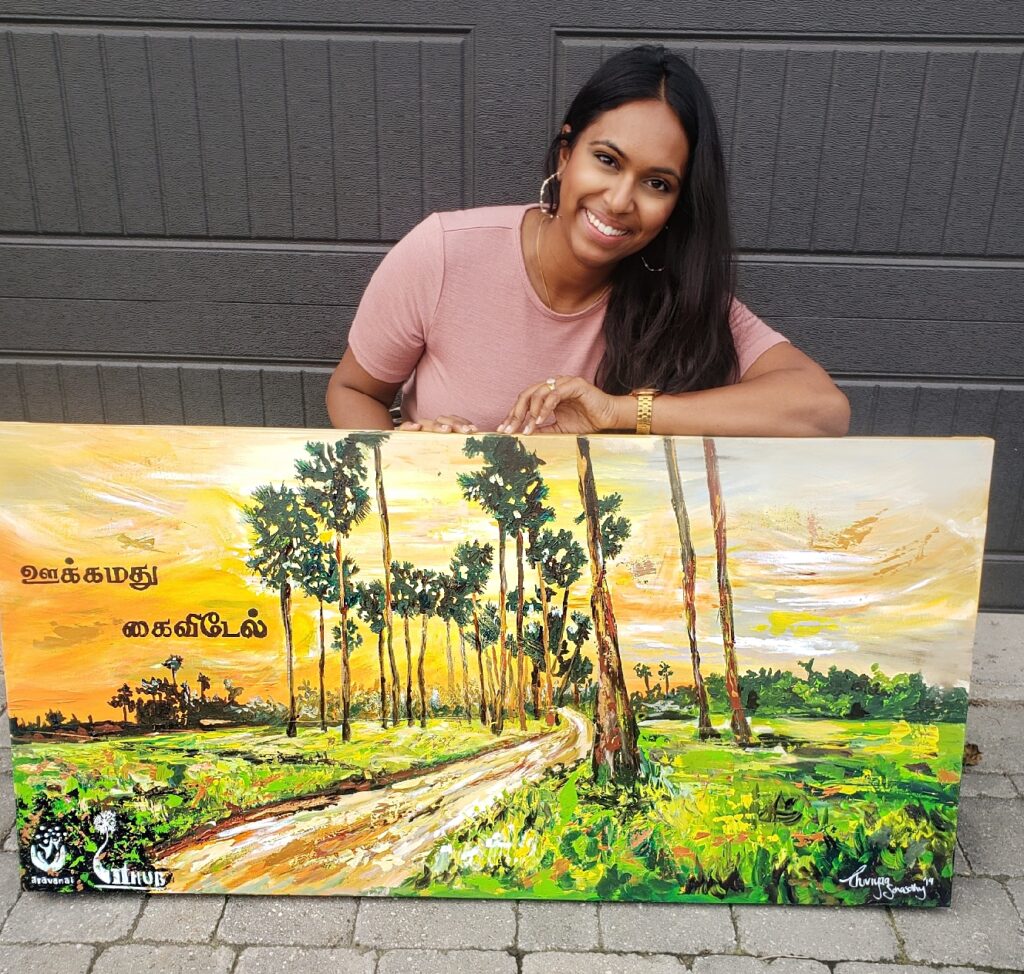 Thiviyaa Sehasothy
(Art by Thiviyaa)

"Tamil identity is home and where my heart lies. Staying connected to my culture isn't hard when the diaspora in Toronto and Canada is such a strong community. Connecting with our Tamil brothers and sisters in Toronto has been one of the easiest parts of connecting to my culture because of how open and passionate we are about our culture. It's a beautiful feeling.
I grew up learning Caranatic music, violin, bharathanatyam and at the tail-end of all those lessons and years of practice, I fell into visual arts and painting. I learned from Tamil teachers and masters in Toronto and was educated on our Tamil roots within the arts. If it weren't for my parents taking me to classes and teaching me the skills in an array of classical arts such as music and dance, I may never have had the passion and vibrancy of my paintings that I share with you all today. It had a strong influence on the emotions, feelings and discipline I've poured into my paintings.

I would like to see more Tamil artists being celebrated specifically paintings and visual artists in Toronto. Over the years I have seen this grow and I've met more Tamil artists and they've inspired me as well. Thank you to organizations like CTPA who include artists such as myself into great events like this.
In 20 years, I see the Tamil community hitting great heights that continue hitting the world stage and inspiring so many young talents to shine brighter! The youth of today will be leaders of tomorrow."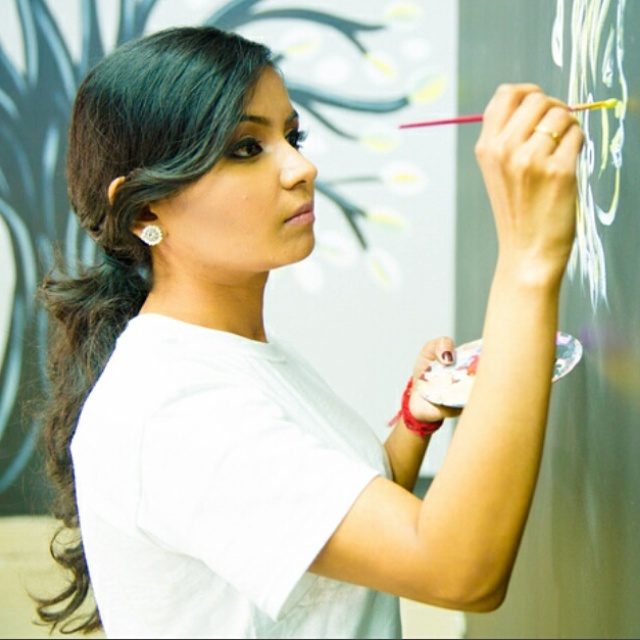 Keera Ratnam
(Waves of Colour)

"I can't say what Tamil identity means to me in a few words, Tamil identity or being Tamil means a great lot. An identity that lives through hurdles, that keeps giving and living through various forms of art. Tamil identity is like the air we breathe. I can not feel it, but I am nothing without it. It makes me whole, gives me meaning, and gave me purpose.
I think because I was born back home my parents expressed the importance of learning about Tamil culture, arts and literature. My parents made the initial engagement possible by talking in Tamil, providing me a strong foundation in dance, vocal, veena and Tamil. Because I was exposed to different art forms and was able to read and write fluently in Tamil connecting to my roots was apart of me.
I began this journey as an artist in 2012. I just came back from Vanni and revisited my family, many who survived the war, many who fought for the Tamil identity and many who lost their lives due to the injustices that were put upon Tamils. My grandmother who is now no longer with me asked me to never forget my identity. She passed down her books, her knowledge and her hopes asking only one thing in return. To let Tamil live on through me, through my lens, through what I know, through my own craft. Over the years I've sold numerous paintings and eventually used that as a way to collect funds to build a safe bus wait-point ( advanced version of a bus stop) in her village in Vanni. My understanding of the culture, my homeland, and my people has always been the main influence of my art.
I hope to see a variety of events that aim to assist youth, children, and seniors. I would like to focus on gatherings that promote healthy dialogues that speak about culture and practices. topics that explain why and how Tamils follow a certain tradition in our culture. I would like to see more events that have Tamil activities, fundraisers that promote youth and children to communicate with their talents in Canada and back home. As Tamils we are diaspora, having fled our own mother country and so finding a way to connect with our own through our craft and talent is a way not to just give back but also be apart of retelling the stories of our culture and history.

In 20 years from now, I'm hoping to see the Tamil community providing more opportunities to families in the homeland. I'm hoping to see Tamils excel in the arts and language."
Happy Tamil Heritage month!
If you'd like to learn more about the work of these amazing women, please visit their websites at:
Tamil Community Centre
http://tamilcentre.ca/en/
https://www.facebook.com/TamilCommunityCentre/
https://www.instagram.com/tamilcommunitycentre/
Art by Thiviyaa
https://www.thiviyaa.com/
https://www.facebook.com/ArtByThiviyaa/
https://www.instagram.com/artbythiviyaa/
Waves of Colour
https://www.facebook.com/pg/WavesOfColour/
https://www.instagram.com/wavesofcolour/